Marie Gelinas Giles
n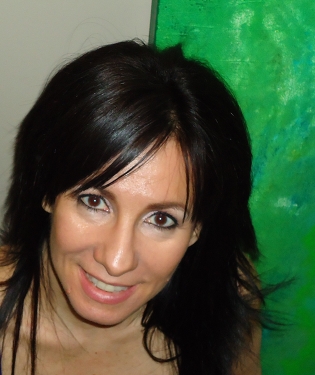 My zest for abstract painting is an exciting ability to exhibit my endless soliloquies. I love to talk, chat, laugh and tell stories. Limitless surprises and discoveries, occurring while I work, combined with the constant contributions of my lively imagination, perfectly impact the outcome of each creation. The need to touch, feel and mould the painting is absolute. Not a paint brush in sight.
The long and short of it is an adventure. A feature of my version displayed for all to see. A detailed chronicle of my tales in which an offering is presented for each to perceive their own story.
Working in the fashion industry as a buyer has given me a real understanding of employing both sides of my brain. Creativity is engaged in the selection of colours, fabrics and styles while at the same time the analytical hemisphere is busy crunching numbers, all for the benefit of producing an excellent collection. These are skills which transfer so well to the enterprise of being an artist: From inspiration, to creating, to naming a piece, marketing, the nuts and bolts of prepping for a show, curating an exhibit and being prepared to talk about our works. Both are very exciting!On a more personal approach, my creations aim to elicit excitement and a strong feeling of happiness.
Born and raised in Montréal. Lived, loved and painted in Calgary from 1996 to 2017. Now living in Seattle. 
Started painting in June of 2010.